Digital Marketing Trends That Will Define the Success of Your WordPress Website in 2022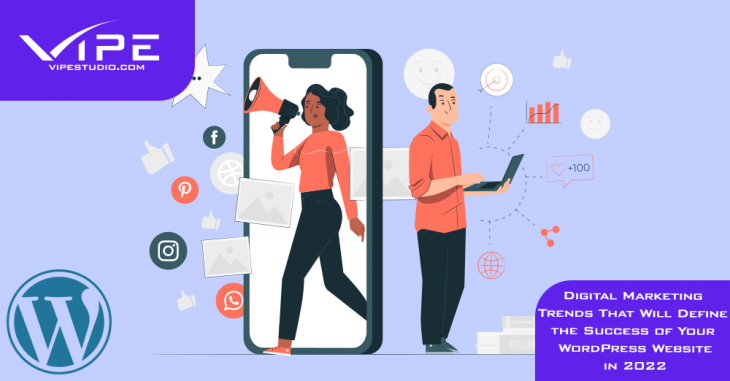 Reading Time:
10
minutes
Implementing digital marketing practices in the WordPress website of any company is crucial for its success. It is the most convenient and secure way to boost sales and revenue and improve conversions. What is more, most marketing practices allow brands to connect with their customers on a deeper level.
Digital marketing is a rapidly growing and evolving industry. It changes at a rate of knots. That's especially true since in the last year Covid-19 transformed our lives. Marketers all over the world had to adapt to digitalization and continue moving businesses forward in the new environment.
Overall, marketing specialists need to stay on top of changes to succeed in the digital world. Whether you are a marketer yourself, a website owner, or a business owner (or perhaps all taken together), you will still need to keep up with the trends too. This will ensure the success of your site.
For this reason, in today's article, our WordPress development agency will take you through some of the digital marketing trends that will come in the next year. By following them, you'd be able to accomplish your business dreams.
Digital Marketing Trends in 2022 for Your Business and WordPress Website
Following trends in the digital marketing industry is crucial if you want your business to become an authority. The drastic changes on the market caused by the pandemic, got most customers confused and stressed. The companies that were able to handle the situation with finesse, are the ones that positioned themselves as reliable.
Now everyone is trying to get over the shock caused by Covid-19. Companies that will adapt fast to the new environment are the ones that will rule the market in the next year. The situation determined the emergence of new trends in digital marketing.
Our WordPress development agency believes that these trends are equally important for the success of your WordPress website and respectively, for the overall success of your company.
Social Media Will Rule the Market
When everything moved online – work, university, school, meeting with friends, people reached social media platforms more and more. They gave us something to do, an innovative way to communicate with our friends and a way to keep up with our close ones when we weren't able to see them.
For this reason, our WordPress development agency claims that digital marketing will be strongly influenced by social media platforms. However, most businesses will put their focus on a few platforms only – three to five. Creating content for every single one is not an effective method because it will deprive you of the opportunity to create quality personalized content.
On the other hand, our WordPress development agency believes that creating content for 3-5 social mеdia platforms is achievable. It makes it possible to reach a broad yet target enough audience.
Furthermore, producing content for a few channels only will make work more manageable. It will be best if you can repurpose your content between different platforms.
Another interesting trend is that influencer marketing will continue to evolve. Therefore, marketers need to search for opportunities to connect with influencers that engage with their audience. People feel connected to the influencers they are following and trust them when making a decision.
Therefore, any business that collaborates with them can expand brand awareness and attract new customers. The key is to work with influencers that are related to your audience. For example, if you sell makeup, there is no point to reach a gaming influencer.
Our WordPress development agency knows that working with influencers can be rather expensive. However, there is no need to contact famous ones. Many micro-influencers have devoted audiences. That is enough since the most important thing is for the followers to engage with the influencer.
Content Marketing Will Remain King
Businesses of all kinds have been investing more of their budget in content marketing. It is very likely to notice an increased interest in content creators, content marketers, and content strategists. That is because most people engage with the company's content before they decide to make a purchase.
However, the standards for creators and marketers that aim to create quality and discoverable content will be set even higher. Apart from trying to target the ideal keywords, marketers need to understand that content's main purpose is to create a connection between the brand and the audience.
Our WordPress development agency believes that quality content is focused on customer intent. With that being said, nowadays video is the most popular content marketing format and this will not change anytime soon. People prefer to watch, which explains the popularity of TikTok, Snapchat, and Youtube.
Therefore, our WordPress development agency advises you to consider creating interesting and valuable videos related to your business. They will allow you to expand your company's capabilities, reach a wider audience. This will result in a strong return.
Moreover, creating videos has become easier than ever. The only thing you need is a smartphone and an editing program. The days when you had to hire a whole production team are long gone. For those concerned that blogs will mark their end because of the increased popularity of video content, our WordPress development agency has some heart-warming news. There is no need to panic about the distinction between blogs.
Blogs will remain popular. They are so widely used because it's proven that they give the wanted results. Most companies who have websites have developed a content strategy based on their blog. Many marketers claim that this is the content format that generates the biggest ROI. What is more, customers often read the companies' blogs before making a purchase and sometimes read them out of pleasure. This, of course, increases brand awareness. Nonetheless, blogs have great search discoverability potential.
Another type of content our WordPress development agency believes will continue to grow is long-from case studies. By offering a deep and exclusive look into the benefits of a brand's product or service, case studies have become a great source of valuable information.
Last but not least, we are going to mention infographics. They give marketers an engaging way to present data to customers. One infographic can be visually appealing while at the same time providing tons of useful information. Furthermore, they can be published on various marketing channels which makes them flexible.
It is obvious to our WordPress development agency that content rules the digital space and it doesn't seem like things will change shortly.
SEO Will Be Even More Valuable
Most businesses understand the importance of SEO and the impact it can have on their WordPress website and their overall success. That is because as website owners, marketers, and content creators, we want to make sure that the site and the content we create are discoverable. This determines the need for enough traffic.
Our WordPress development company believes that SEO strategies will be even more established in the marketing efforts of most teams. Most professionals will continue to work on their SEO plan in the next year.
Furthermore, our WordPress development agency reminds you that Google algorithms are constantly changing. This determines the need for SEO to evolve with them. That is what makes it work – it never stops growing and searching for something better. Most companies invest in dedicated SEO experts that can help them in becoming more discoverable.
Search engine optimization has many components. Each of them plays a huge role in whether your efforts will give the wanted results or not. Keywords are one of the most crucial ones. Our WordPress development agency advises you to refresh your keywords in the following year according to recent digital trends.
Another interesting thing is that the focus of SEO will shift to user experience. What our WordPress development company means by this statement is that customers' expectations are set extremely high. They want a fast website and convenient products and services. The main thing marketers need to put extra work into is delivering a meaningful and impactful user experience.
To accomplish this, ensure that page load is fast, and users don't have to wait too long for text, images, and videos to load. Then make sure your WordPress website has excellent navigation and structure. Last but not least your site must perform equally well on mobile devices. To secure such a site, it will be best to contact professional WordPress developers.
Increased Interest in AI
For many years now, artificial intelligence has been a permanent object of interest for web users, developers, marketers, and everyone in the digital world. Although we can't expect computer machines to suddenly conquer digital marketing and our lives in the following year, there will be some automation trends we must look out for.
Our WordPress development agency reminds you that AI is around us for longer than we think. When Spotify recommends a song or you are talking to Alexa, you're using AI. It has entered our lives long ago and it's here to stay. Customers enjoy it so marketers, website owners, and businesses will need to adapt.
However, do not expect that your job will be taken from a robot. The point of AI is to improve the user experience and the relationships businesses have with their audience. It is useful when you collect and analyze certain data too.
Other than that, chatbots are also a great solution to the communication problem. They eliminate the need for live chat support when customers have questions. Furthermore, AI can help in writing short copies for social media or automated emails. Our WordPress development agency reminds you that they will not replace the need for professional writers.
Privacy Will Become More Important
In the digital environment customers are extremely concerned about their privacy, whether when buying a product or service or when registering to a website. That includes a lot of personal data like names, date of birth, email addresses, credit card information, location, etc.
However, the data you collect from them brings a lot of value to your business. It can help you understand your audience better and straighten your relationships. Our WordPress development agency reminds you that it is your responsibility to take care of it and keep it private.
It is expected security to become a big concern for users in the future. They will demand excellent protection over the data they share. If you somehow lose it and it falls into the wrong hands, you'll be held responsible. As a consequence, you'll lose the trust people vote for you.
Our WordPress development agency advises you to adhere strictly to GDPR. It may seem tedious at times but losing your authority will be much heavier for your business in the long term.
Customers Will Come Over Business
To have a strategy that gives results, your marketing efforts should be dedicated to customers more and less to your business. In the future, digital marketing's focus will be on customers' needs and wishes. Instead of selling, professionals will have to build relationships.
As a website owner and marketer, you'll need to deliver a personalized experience and content.
This is how you'll establish your business as a leader in the industry and will turn visitors into customers. Brand loyalty is a must and putting your efforts into customers is a step in the right direction. To boost sales, you'll need to understand that every person is different and show users you're well aware of how unique they are.
Our WordPress development agency reminds you that there is not a single user that will enjoy having products and services pushed into their face. Your marketing efforts should be aimed at solving the problems of the audience instead of making sales. Focus on the features your products have instead of focusing on messages like "buy my product". Providing value should be your number one priority.
Use Digital Marketing Trends as an Advantage to Your WordPress Website
The future of your marketing strategy is digital. This determines the need of being easily adaptable to the ever-changing environment. However, focusing your efforts on creating marketing campaigns dedicated to customers' needs will be highly encouraged in the future.
The times are difficult for everyone so keeping up with the changing conditions of the market is crucial. Paying attention to customers' demands and interests is more important than ever. The trends our WordPress development agency mentioned above will be helpful for your business.
However, to easily stay on top of all the changes that happen on the market and to create digital marketing campaigns that work, you'll need to have a top-notch website. Our WordPress developers can provide you with one. Apart from building and maintaining quality websites for our clients, we also guide them through the process of growing their business. Thus, for the next year, you can give yourself a little gift: a first-class site that will boost your sales. We would love to hear from you soon!
The content of this website is copyrighted and protected by Creative Commons 4.0.
Tags: bloggingboost trafficcontentcontent strategycustomersdigital marketingecommerceengagementmarketingonline businessprivacy policySEOsocial mediatarget audiencetipstrendsuser experiencewebsite trafficWordPresswordpress agencywordpress website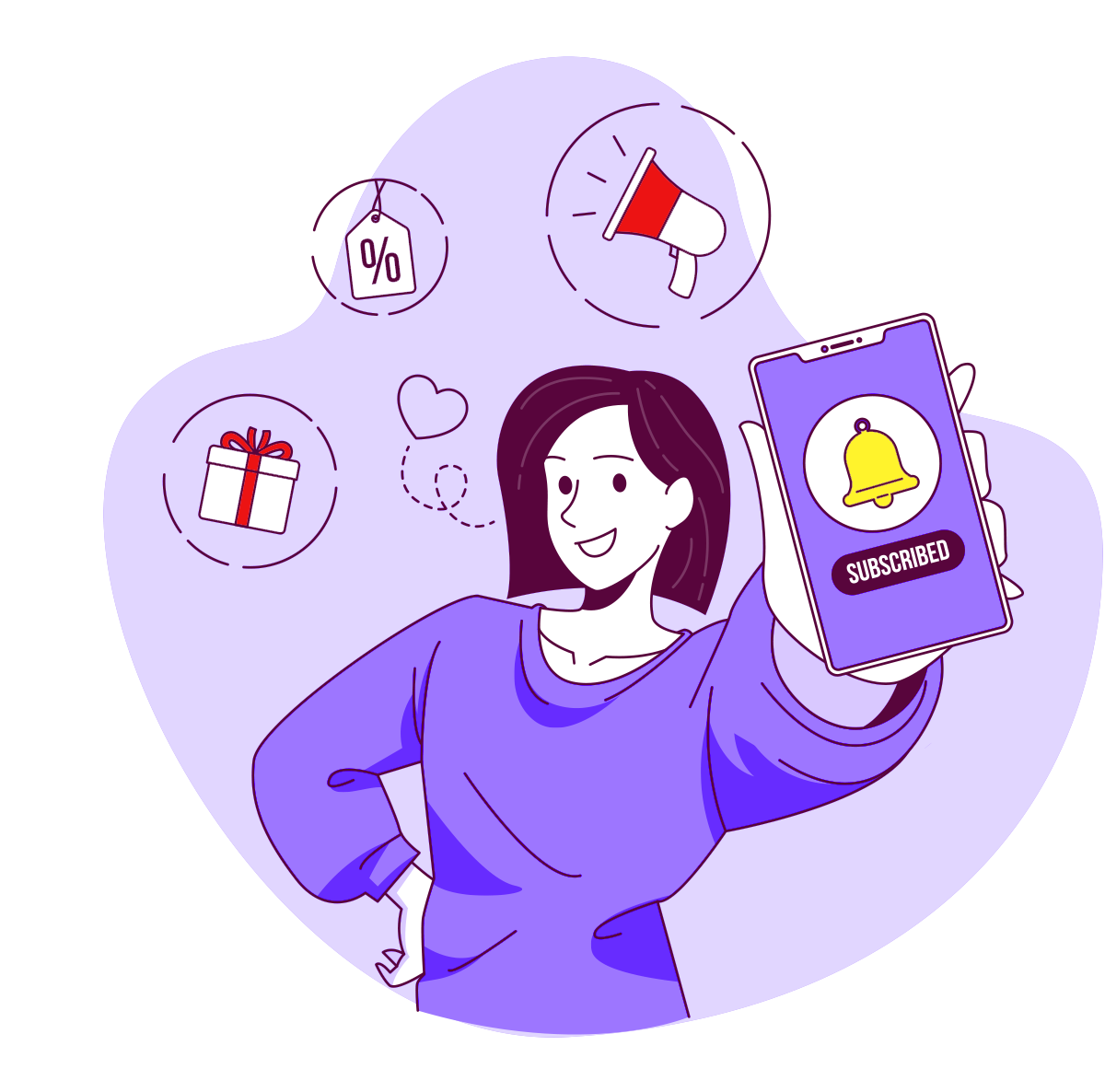 We have already created hundreds of profiting websites!
Subscribe to our newsletter and get our best WordPress tips!