Building an Enterprise WordPress Website for Stark Industries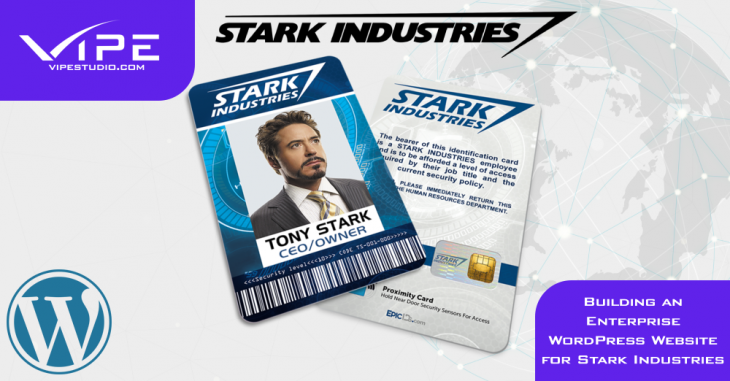 Reading Time:
9
minutes
Do you know what's the first enterprise-level company that comes to mind for everyone at our WordPress Agency for Development when we think about large-scale organizations? Stark Industries. As in the multinational company of the one and only Tony Stark that you're probably familiar with from the Marvel Cinematic Universe (as well as Marvel's comics, of course).
As much as our day-to-day work is grounded in the real world, we simply can't help ourselves when it comes to making pop culture parallels. After all, Vipe Studio is famous for its love for everything pop culture-related. Not to mention that our goals have become more and more enterprise-focused, especially in the last couple of years.
There is absolutely no denying that working on enterprise projects, which are naturally characterized by their enormous scale, is what sparks the minds and souls of our highly-skilled WordPress developers. We like to think big, and large-scale businesses allow us to unfold our expertise to its full potential.
This is why we thought: why not combine our love for Iron Man and our unrivaled enterprise WordPress development competence to build the most invincible website for the company of our favorite superhero? Don't say anything, we know what you're thinking – a marvelous idea, indeed. (Bonus points for all of you who got our puns until that point!)
And so, Jarvis, please initiate the "Building an Enterprise WordPress Website for Stark Industries" protocol, will you? Ok, ready? Let's go and show the world what a first-class enterprise site should look and feel like!

About Stark Industries
If, for some reason, you have been living under a rock the past few years and have absolutely no idea what Stark Industries is, our WordPress agency for enterprise is coming to the rescue and will be more than happy to enlighten you on the matter.
Let's begin with a famous quote you might recognize from the first Iron Man movie where Tony Stark says:
"I came to realize that I have more to offer this world than just making things that blow up. And that is why, effective immediately, I am shutting down the weapons manufacturing division of Stark International until such a time as I can decide what the future of the company will be."
You probably get the idea already. Stark Industries is a global industrial organization and the world's largest technology conglomerate (our enterprise WordPress agency reminds you that we're operating within the borders of the fictional Marvel universe now, so be mindful of that and don't use this information to confidently exclaim that "Stark Industries is the largest tech conglomerate in the world" at dinner parties).
The corporation was founded in 1939 by Howard Stark, who ran it until he died in 1991. Obadiah Stane was then appointed temporary CEO. Tony Stark took over the post soon after he turned twenty-one.
Anyone who's watched Iron Man religiously at least a hundred times knows what happens next. The corporation prospered economically for over two decades under Stark's management. But then, plot twist!
The favorite superhero of our WordPress development agency found out that Obadiah Stane was selling their weapons to terrorist organizations across the globe, which pushed him to close down their successful munitions division.
Upon discovering he was dying of palladium poisoning, Stark elected Pepper Potts as CEO of Stark Industries in 2010. He permitted Potts to keep that role even after he managed to engineer his own recovery.
This brief history of Stark Industries and its affairs is intended to show you that this is indeed a good example of a very complex enterprise company that deals with many divisions and has a very demanding ecosystem that needs constant maintenance to keep everything running smoothly.
Enter professional WordPress development for enterprise that we believe is the best solution for the digital needs of any large-scale organization that operates on a global scale. In the next few points, we'll be discussing the key elements for building a successful enterprise website that we implement for our own clients and that we would have applied if we had the chance to create a site for Stark Industries.

The Key Elements We Want to Incorporate in Stark Industries' Enterprise WordPress Website
Enterprise websites are challenging projects because they must fulfill a variety of objectives at once. For instance, they must show the organization's competence and reliability, provide relevant information to visitors, house an enormous amount of content, turn leads into customers, and many more.
Our WordPress agency for enterprise reminds you that on top of all the functions that a high-quality corporate website needs to accomplish, it must also do it in a way that pleases different stakeholders groups, such as sales, users, marketing, and so on.
However, those parties frequently have diverse requirements. For example, a visitor searching for product information may be turned off by extremely aggressive sales-driven calls to action. Alternatively, the user may never notice the main call to action if there are too many secondary calls to action. As you can see, it's rather complicated.
Given the enormous scale and complexity of enterprise websites, there is a significant risk for them to take a life on their own and ultimately fail to please anybody.
This can be a scary thought for any business owner, but we can assure you that there are certain characteristics that you can keep in mind while you're in the process of WordPress development for enterprise that will help you strike a balance between the user experience of your site and your business goals.
With that being said, it is now time to present you with some of the key elements that our WordPress development company would include in the imaginary enterprise WordPress website we want to build for Stark Industries. Of course, these are all things that we implement in the real world for our clients.
Without further ado, here are the major components we would like to equip Stark Industries' enterprise website with (and yours, too)!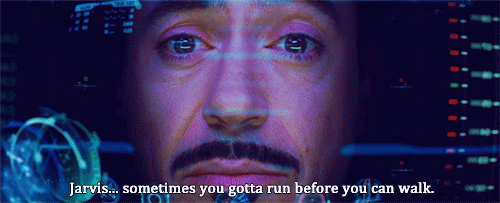 1. Robust Information Architecture
Do you wonder what information architecture refers to in terms of enterprise WordPress development? Well, this is how you produce, store, access, and show data on your site. We remind you that the architecture of your site has a long-term impact on your business. This is why the information architecture of any enterprise-level website should consider the user experience, along with future content updates.
It may appear simple to organize information in a logical manner. However, our enterprise WordPress agency warns you that there are many obstacles that may cross your path. For instance, the more information and content you have on your website, the more difficult it becomes to group that huge amount of information in a coherent way.
If the structure of your site isn't solid enough, this can be a huge drawback to the end-user experience. The following are some of the most prominent information architecture structures for large-scale websites: hierarchical; alphabetical; chronological; sequential; audience; topical; matrix.
If Tony Stark were to ask us what information architecture is best for his Stark Industries website, we would have advised him to avoid structures that are too shallow or too deep. Remember that the foundation of any enterprise WordPress development should be truly robust.
In this context, shallow structures necessitate the incorporation of large menus with the potential for visitors to become lost. Structures that are overly deep, on the other hand, tend to conceal the information in various layers. This can overwhelm the user with multiple levels that can be hard to navigate in order to get the content they want.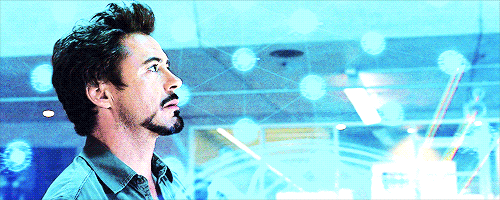 2. Flexible Content Management
Tony Stark is, without a doubt, a true thought leader in his (superhero) field. This means that his Stark Industries website would have to constantly publish excellent thought-leadership content. This can be in the form of white papers, blog posts, eBooks, etc.
Our WordPress agency for enterprise reminds you that valuable content is what draws consumers to your site, as well as the very thing that builds trust in your brand. However, if you want your content to be really effective, it must be properly stored and gated. This will make it easy for leads and customers to access it.
A WordPress development for enterprise is the perfect solution in terms of flexible content management, as it checks all the boxes of a strategic and methodical approach. Content development, administration, infrastructure, production, repurposing, and scope are all things that play a major role in your business' success.
Thankfully, WordPress is the most robust CMS on the market for a good reason, meaning that it offers technologies that will help streamline processes and make content management a breeze for your team (as well as Tony Stark's staff, of course).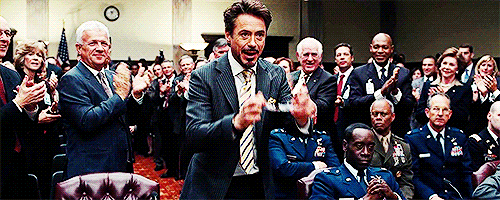 3. Conversion-Centric Design
Our enterprise WordPress agency wants to point out that conversion does not always imply a sale. Providing an email address, taking a product requirements survey, or moving to the next stage of the sales funnel are all examples of conversion goals.
In this particular context, the purpose of website design should be to, first and foremost, persuade users to convert in a certain way based on the goals of the landing pages it houses.
To make a conversion-centric design for Stark Industries' website, we would first ask Tony Stark to define the final conversion objective he has in mind so that our expert WordPress developers may then create a unique and memorable journey to that specific goal.
We believe that the conversion process should be as simple as possible. This means no distractions, whatsoever. We understand that limiting alternatives may seem contradictory, but we remind you that having too many choices might have the opposite effect and lead to individuals making no decision at all (which you obviously don't want to happen).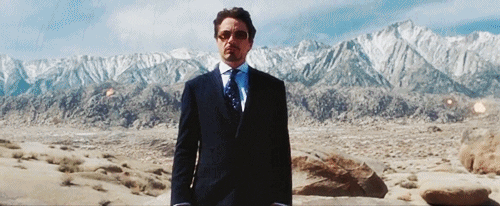 Building an Enterprise WordPress Website for Stark Industries Is a Job for Real-Life Superheroes!
So, there you have it. This concludes the exclusive project of our enterprise WordPress agency to build a website for the multinational industrial organization of Tony Stark – Stark Industries.
Your company may use an enterprise website to upsell, cross-sell, acquire, and nurture leads. But that's not all. An enterprise website can also inspire, educate, inform, and raise awareness on different matters. However, much of this will be impossible if your website misses some of the most essential aspects of a high-quality WordPress development for enterprise.
We know that it may be difficult to strike a balance between individualized user experiences and your sales and conversion goals. Not to mention the challenges that may occur with tracking all of the data that flows from your website. Top that with the day-to-day chores of updating and maintaining your site, and you have a recipe for a nervous breakdown.
Tony Stark is not among the cowardly at heart, though, and we're pretty certain the same goes for you too. So be like Iron Man himself, and instead of worrying about your demanding website project, simply entrust it in the highly skilled (coding) hands of the expert WordPress developers from Vipe Studio.
We offer a world-class enterprise WordPress development service that can cater to the ambitious requirements of even the largest organizations. Many big brands have already trusted us with their websites, and our professional assistance has led to measurable advancements in team efficiencies and business expansion.
We're eager to learn everything about your exciting enterprise project, so don't hesitate and contact us today. We're awaiting your inquiry!
The content of this website is copyrighted and protected by Creative Commons 4.0.
Tags: enterpriseenterprise businessenterprise companyenterprise websiteenterprise WordPressenterprise WordPress developmentgeekyiron manmarvelpop cultureStark Industriestony starkWordPress development for enterpriseWordPress for enterpriseWordPress geeks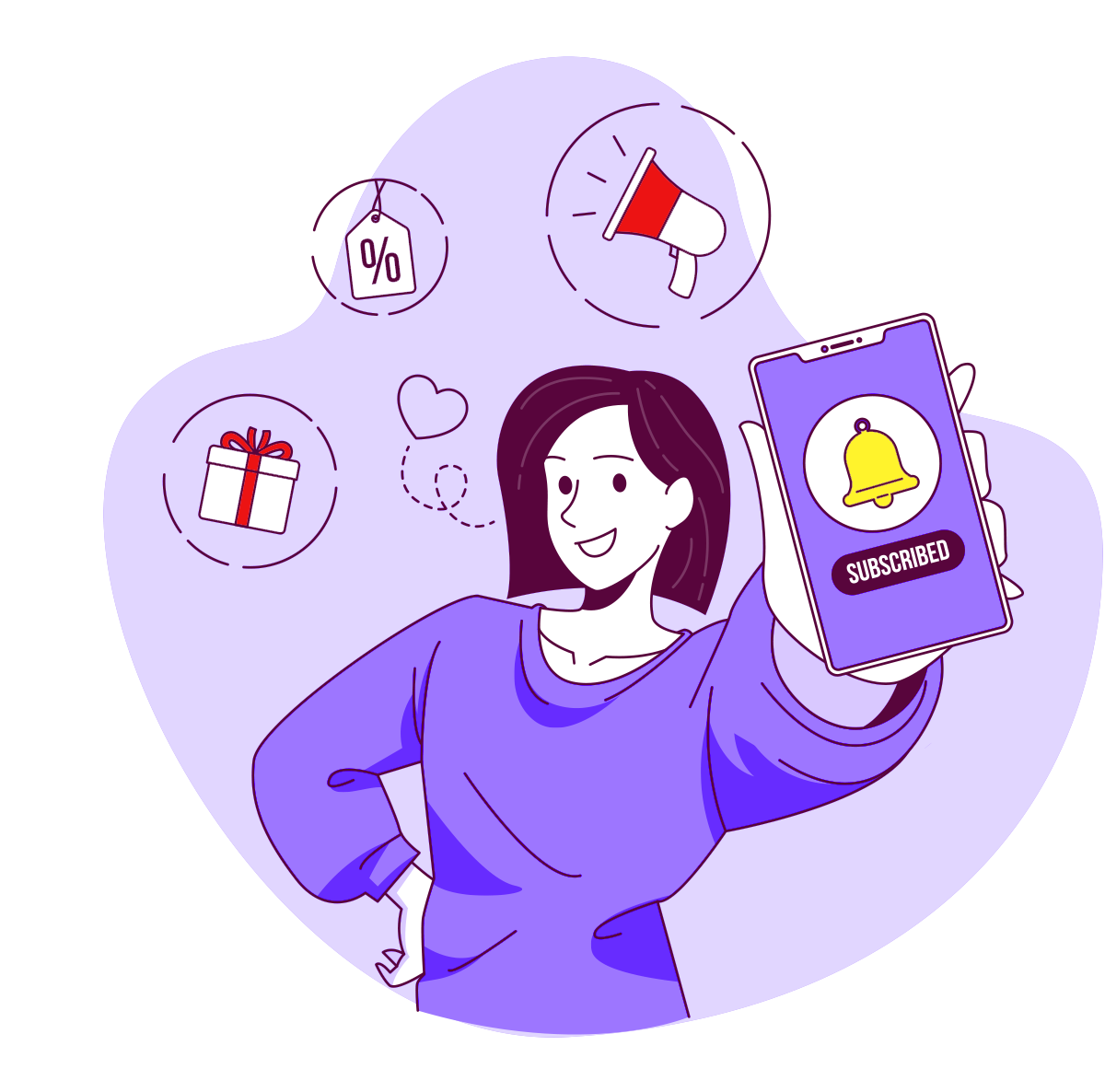 We have already created hundreds of profiting websites!
Subscribe to our newsletter and get our best WordPress tips!